We Are Going To Assateague Island Home Of The Wild Ponies
Wood E. Wagon and I have planned our first shooting trip and destination. Assateague Island in Maryland. I had wanted to do this when I first got Wood E and it didn't work out. My plan now is to be there a week camping in the Assateague Island National Park.
As of now I will be leaving Tampa Bay, Florida Area and working my way north. Do you have any suggestions for me to spot and experience or photograph along the way?
(Email me taz@tazcable.com)
This is all I know so far!
The Best Time to go is Mid May to October. I have to be back in Tampa by October so I was thinking of June or July. Depending on other events and festivals that I have planned to attend.
This is from Assateague Island National Park web site:
A

ssateague Island

is managed by three official park agencies. Assateague Island National Seashore is cared for and managed by the National Park Service, U.S. Fish & Wildlife Service and Department of Natural Resources. Visitors to the park in Virginia enjoy the beach plus find opportunities for countless breathtaking experiences and adventures at the Chincoteague National Wildlife Refuge (established in 1943). The beach, wildlife, dunes, wetlands & marsh islands are protected for public outdoor recreation use and enjoyment.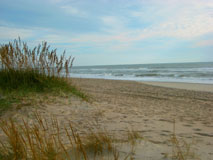 In 1962, Assateague Island National Seashore was established for the purpose of protecting Assateague Island in the states of Virginia and Maryland. The National Park Service and Fish & Wildlife Service help protect Assateague Island's splendor. Assateague Island National Seashore is administered to provide for recreational use and enjoyment consistent wiI will th the perpetuation and maintenance of the seashore's natural environment. Assateague is vital for resting and feeding migratory shorebirds and other abundant bird species. Over 320 species of birds can be found here. Assateague Island is a priceless seashore ecosystem and a sustainable resource that all visitors can appreciate.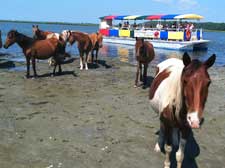 Assateague Island is a great vacation destination within easy reach for many East Coast residents.

Sightseeing cruises

,

kayak tours

, crabbing,

bird watching

, fishing, hunting, biking and other activities continually make this a paradise for visitors that enjoy outdoor recreation.
I have always like horses - I hope camping on the beach where they run wild they will get buck wild and I can grab some pretty cool photos.
The only thing is I can;t see where the horses are playing - happy - I don't see that in any of the picture
s. Either way I still wanna go even if it's just to camp on the beach!
I will continue my research and keep you updated!